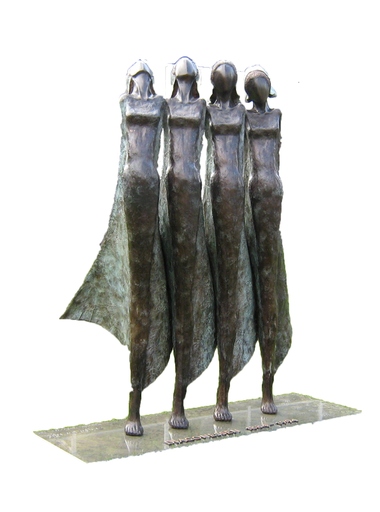 Meet Marian Spekreijse
Marian Spekreijse, an artist specializing in bronze sculptures, lives in the East of the Netherlands near the city Arnhem. Her works, which she has primarily created for display and permanent outdoor placement in gardens, woodlands or residential terraces, are resilient to extreme weather conditions which through these forces gain character over the years.
Marian's creativity began with her studies at the A.K.I. (Academy for Art and Industrial Design) in Enschede, the Netherlands, after which she worked for many years as a designer in children's wear fashion.
Her next step was the establishment of her personal art gallery Atelier Visie, which included mediating in the art world and leasing, lending art to business interests.
For the past 15 years Marian has focused on developing her own bronze sculptures inspired by the female form and its magnitude. Her sculptures are immersed in emotion until surrender, defiant to loving, dependent to independent, and are full of courage, spirit and perseverance. The sculptures represent forms free of restrictive bonds; enjoying an inner freedom.
One of Marian's greatest challenges was a commission from the Foundation for the Diaconessen, a hospital established in 1884 in Arnhem, the Netherlands and supervised by Protestant nuns. The request was for a bronze monument, to distinguish the merit of the nun's devotion to their work, which would be placed on the grounds of the no longer existing hospital. The monument, titled '' Fight for Life'', resulted in a 2 meter high flowing expression of the nuns hasting to their duties. For her own devotion to the design, development and finalizing of this project Marian was awarded a Certificate of Honor by the foundation.
Marian's own inner freedom is the joy of creating her new sculptures at home in her studio.